The Philippine celebration of Christmas is influenced mainly by its previous colonizers – Spain and the USA – and many other western cultures. However, Filipinos have integrated their own unique taste and style in the objects symbolizing the season over the years. Here are the most popular Christmas decorations common to most households in the Philippines.
Parol
This is the Christmas lantern for the Filipinos. The parol or star lantern is the ultimate symbol of Christmas in the Philippines. It represents the star of Bethlehem, the guiding light for the Holy Family. It emits warmth, joy and harmony. (image source)
Traditionally, parols were made from bamboo sticks, Japanese rice paper (or "papel de Happen) or crepe paper, and a candle or coconut oil-lamp for lighting. Times have changed and the current parols have taken on a variety of shapes and forms. From the simple 5-pointed stars with two tails at the lower two tips, some parols are now 4-, 8-, 10, and even 16-pointed stars. Some are not even stars at all but look like bunches of flowers or flowing objects. Many parols nowadays are not anymore made of bamboo and paper, but also of cellophane, plastic, rope, capiz shell and other indigenous materials. To add more life, twinkling bulbs in dazzling pattern are installed in some parols.
Parols are not only hung around houses. Offices, schools, shopping malls and almost every establishment are adorned with this decoration. You can even find them in jeepneys and cars. A Filipino parol shines in every one's house to celebrate the season of sharing, giving, peace and love. Truly, the parol is a perfect symbol of Filipino Christmas. (image source)
Belen
Another popular Filipino Christmas decoration is the belen. Taken from the Spanish name for the town of Bethlehem, it is a crèche or tableau representing the Nativity scene. It portrays baby Jesus Christ in the manger, surrounded by the Virgin Mary, St. Joseph, the shepherds and their flocks, the three Magi, and some stable animals and angels. (image source)
Belens can be seen in homes, offices, schools, churches, and almost anywhere. The ones in huge establishments can be very extravagant, using life-size porcelain figures. The humble versions are simply paper cutouts of the Nativity characters.
Homemade Christmas Trees
Other countries have this decoration at home, but Filipinos have their special way of putting up and accessorizing their Christmas trees. Live trees and plastic trees on sale are quite expensive, so Filipinos have ingeniously created their own trees at home. Some make use of dead tree trunk that is shaped like pine. The trunk and its twigs are then meticulously covered with white or green crepe paper, with ruffles to imitate leaves. It is then placed on a pot and adorned with stunning balls, laces and various ornaments. Besides crepe paper, others use foil paper or colored cellophanes. (image source)
Homemade Ornaments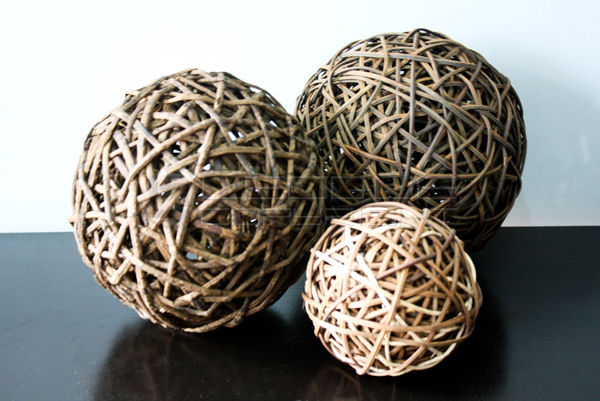 Filipinos also have many versions of popular Christmas decorations. Among them are rattan Christmas balls. Instead of using plastic balls, Filipinos utilize the wooden material to create decorative balls. Others also use ordinary pingpong balls adorned with sequences and colored buttons and bullets. Other great decorations are homemade wreaths, candles, socks, and cards. (image source)